Welcome to my paintings. I hope you enjoy what you see. My paintings are there to complement nature. Each painting is a simple translation of life and fantasy. I like to use strong colours, movement and imagination. My paintings are affordable and there are limited editions personally signed by me. The paintings are my world and intensely personal. Allow yourself to be seduced and I hope they will bring sunshine and warmth into your room.
"In this striking collection of recent work, Patti Boulaye demonstrates as an Artist the wider range of her extraordinary and unusual talent. This collection was inspired by Patti's childhood in Africa and by her enthusiasm and respect for animals and all things natural. Her use of vibrant colour, combined with her accurate eye and her obvious affection for her subject has led to this spectacular and remarkable work." London Art Events
Running Elephants
Acrylic on Canvas
Woman on a Tree
Acrylic on canvas
Red Scarf
Tiger
Tiger 2
Leopards
Girl on water
Giraffe
Somali Woman
Pink Scarf
Dream (Seychelles Beach)
Yawning Tiger(Prints only available)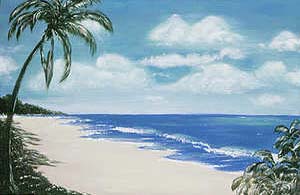 Sunny Beach
Maasai Warrior (prints available)
Exhibition
Exhibition
Pride in The Mist
Yawning Tiger (Prints only)
Sold
Flower Field £1500
Antelope
Table_Mountain__£1500 (Sold)
Prints only available.
Standing Elephant £850
Seychelles_Beach £750
Angry_Tiger_(Prints only)
Flower_Girl (Prints only)
Nesting_Yuhu_Birds
Nude_Girl_with_Calabash
Family_of_Cheetahs_4ft_by_8ft
Lions in the Mist (prints only)
Sold
Flower Girl (Prints only)
Zebras (Prints only)
Drinking Zebras
Snarling Leopard
Red Sea Scape
Pride in the Mist' by Patti Boulaye
Pride in the Mist' by Patti Boulaye hanging in the home of Donavon Nelson
'Pride In The Mist' by Patti Boulaye
'Pride in the Mist' by Patti Boulaye commissioned by Donavon Nelson, CEO at Nelson Management Ltd
Paintings are currently Available For Sale (all paintings are available as personally signed limited editions).
Please contact us for information about purchasing any of the paintings detailed above.